Kit Houses
Aladdin Block 2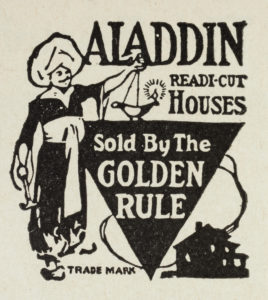 Like the auto industry, Aladdin's manufacturing process, coined "the Aladdin System," produced machine-made, standardized parts to reduce cost and waste and pass savings on to customers. The Ford Motor Company management's suggestion that the company limit production to one model to simplify manufacturing fell on deaf ears. Over the course of its existence, the company produced hundreds of models ranging from the practical to the romantic.
Early kits for garages, boathouses, and summer cottages expanded to industrial and military housing and facilities, but the single-family house was the company's bread and butter. Cottage, Bungalow, and Foursquare models were most popular for working- and middle-class customers. The small, one-story cottage was the least expensive and popular for vacation homes and worker housing. Between 1915 and 1920, the average price for an Aladdin home was $600 to $900, equivalent to $16,000 to $24,000 respectively in 2022.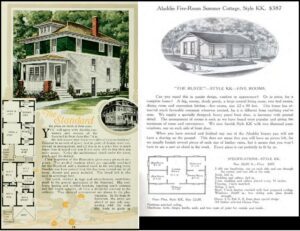 Aladdin advertisements were varied and strategic. Their earliest campaigns promoted the ease of building one of its kit houses and included testimonials from customers praising the simplicity of construction. Other advertisements offered a kit house as a solution to the difficulties of renting a home. Advertisements from the 1920s promoted purchasing a home before an automobile, a competing investment for many people.