Kit Houses
BVT Block 3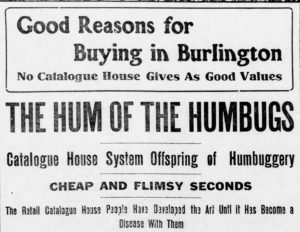 Vermont merchants resisted the arrival of mail-order catalogs in the late nineteenth and early twentieth centuries. In September 1901, the Middlebury Register ran an opinion piece decrying women who shopped through mail-order companies rather than at local businesses, claiming they hurt their town more than "half a dozen perpetual cases of smallpox," bred illness, and were mothers of crime.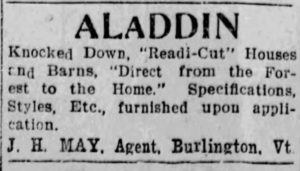 Despite the continued outcry from local merchants, some kit house companies were advertising in Burlington-area newspapers by 1912. Typically, companies used a local real estate agent to market the homes. Of the major kit house companies, Aladdin Homes ads appear most frequently in the local press. Advertising by other kit house companies in local newspapers is rare, confirming that the companies primarily relied on catalogs mailed to households.
The Great Depression took a toll on Burlington's economy, and local kit house advertisements became scarce between 1933 and 1940. However, for those companies that survived, 1941 marked a resurgence in demand for housing that accelerated after World War II.