Kit Houses
Sears Block 2
Materials for a house traveled directly from the factory to the customer by railroad. Most houses fit in two boxcars, but it was more common to have parts delivered in stages during construction to allow for flexibility and efficiency.
Sears customers could choose from a wide array of house designs. Initially, the company purchased architectural plans, but by 1919 it had built a dedicated team of "experts" to produce plans that responded to customer preferences. Customers could opt to reverse floor plans or substitute building materials and could add as much or as little as they wanted to their order—door hardware, appliances, furnaces, lights, and bathroom fixtures, all the most modern available.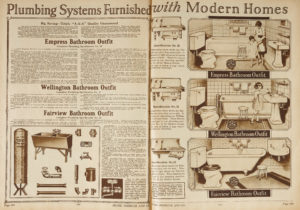 Sears offered a variety of loan and financing options to place homeownership within reach for potential customers. Loan programs, introduced in 1911, typically were for five years with a six percent interest rate but could be extended up to fifteen years. Sales spiked to more than $12 million at their highest point in 1929. Unfortunately, nearly $5.6 million of those sales were in mortgages and loans. The Great Depression hit the Modern Homes program hard; $11 million in mortgages was liquidated in 1934 and the last Modern Homes catalog was published in 1940.