Kit Houses
Bennett Homes
1904 - 1975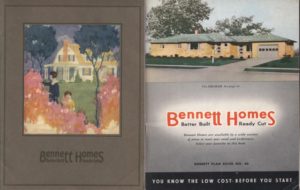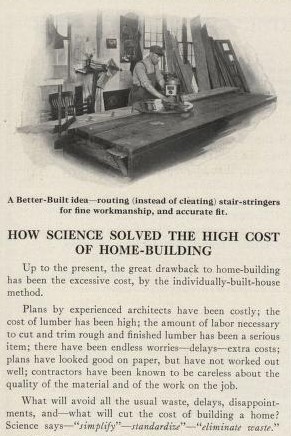 This is the day of brains that plans for thousands at a time, instead of one… This is the day of machinery.
With these words in their 1920 Small Homes catalog, the Ray H. Bennett Lumber Company celebrated the Machine Age of housing construction. Based in North Tonawanda, New York, Bennett Lumber marketed its "Better-Built" Ready-Cut Homes as the epitome of modern technology. Its catalog credited science with lowering the price of their houses by simplifying, standardizing, and eliminating waste—thereby passing savings to its customers.
Like its competitors, the Bennett Lumber Company produced catalogs with building plans, materials, and custom options. Its messaging was clear and consistent over seventy years of operation—economy in drafting, standardization, labor-saving machinery, carpentry, mill work, water transportation of raw materials, shipping facilities, and bulk buying.
It promoted owning rather than renting, backing up claims with data illustrating how rent, compounded annually, would translate into the price of a home. "For the American family, no rented rooms can take the place of a real home. You take great pride in your home when you've built it yourself. It is the one spot in all the world which you can call your own. You are independent." Bennett Homes remained in business until the 1970s, a testament to its adaptability.