Kit Houses
Historic Resource Survey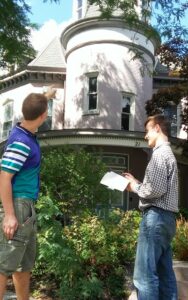 A survey to identify and collect data on a community's historic resources is the foundation of all subsequent preservation planning. Inventorying resources builds awareness and helps to define goals. Surveys may be conducted by the State Historic Preservation Office (SHPO), or by professional consultants, neighborhood associations, private property owners, or government agencies in coordination with the SHPO.
The survey involves two steps: 1) planning and background research, and 2) a field survey to record information about historic resources in a defined area.
Understanding the historical or cultural significance of a neighborhood or community can guide decisions about new development, infill, and additions to existing buildings that may impact the scale and character of an area or the integrity of architectural resources. These actions can have negative consequences on property values and the environment.