Kit Houses
Dormers and Bump-outs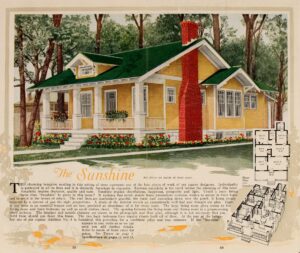 Dormers and bump-outs were important features of compact kit and plan-built houses. They maximized usable space without increasing the footprint of the house, thereby minimizing additional costs.
Dormers are windows that project from a roof slope, adding light and floor space to upper story rooms. Although available before the prefabrication movement, they were featured widely in kit house styles, especially the bungalow.
Bump-outs, a section of interior wall extending a few feet beyond the main wall, were another design tool to create extra floor space without altering the overall footprint or significantly increasing costs. They offered cozy nooks for reading or dining, adding visual interest inside and out.