Kit Houses
Sears, Roebuck, & Company
Sears, Roebuck & Company
1908 - 1940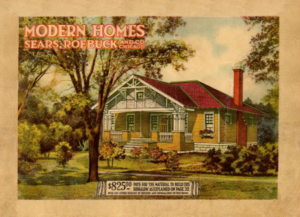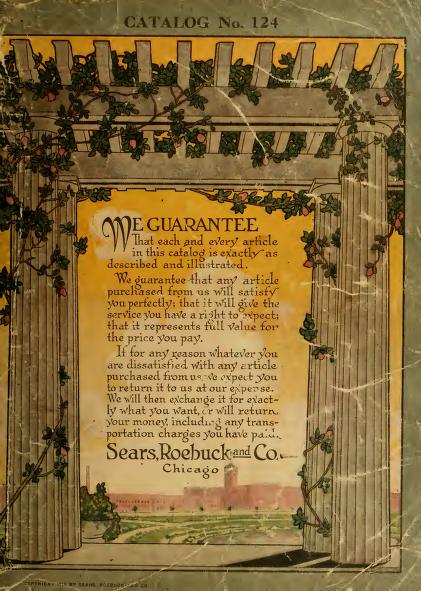 Sears has become synonymous with kit houses in popular culture. By the 1890s, Chicago-based Sears, Roebuck and Company was well-established as a mail-order company with massive catalogs that offered everything from jewelry, clothing, appliances, and home goods to sports equipment, musical instruments, hardware, and farm equipment.
It launched its Modern Homes program in 1908, selling only plans and building materials until its first catalog of ready-made buildings in 1916. Over the course of forty years, the company sold close to 80,000 mail-order homes in over 400 styles.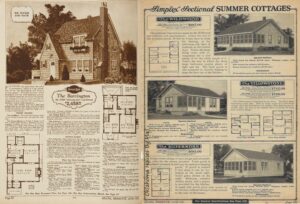 There were three tiers of buildings in the Modern Homes program. Honor Bilt homes were of the highest quality with lumber guaranteed knot-free. Standard Bilt Homes were of simpler design without the guarantee. Farm buildings, outhouses, garages, and summer cottages comprised the Simplex Sectional tier. Regardless of the tier, the company pledged sturdiness and dependability.
Sears Lumber Plants
To pass savings on to customers, Sears purchased factories rather than subcontract work and lose money to middlemen. Its first purchase was a lumber mill in Marion, Ohio, in 1909, followed by a forty-acre lumber yard in Cairo, Illinois, in 1911, and a mill work plant in Norwood, Ohio, in 1912. In the 1920s, the company opened a lumber mill in Newark, New Jersey, to boost East Coast sales. They opened sales offices across the country to deliver personalized service.
Sears Modern Homes No. 230. Courtesy of Historic New England.
Materials for a house traveled directly from the factory to the customer by railroad. Most houses fit in two boxcars, but it was more common to have parts delivered in stages during construction to allow for flexibility and efficiency.
Sears customers could choose from a wide array of house designs. Initially, the company purchased architectural plans, but by 1919 it had built a dedicated team of "experts" to produce plans that responded to customer preferences. Customers could opt to reverse floor plans or substitute building materials and could add as much or as little as they wanted to their order—door hardware, appliances, furnaces, lights, and bathroom fixtures, all the most modern available.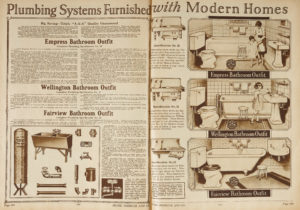 Sears offered a variety of loan and financing options to place homeownership within reach for potential customers. Loan programs, introduced in 1911, typically were for five years with a six percent interest rate but could be extended up to fifteen years. Sales spiked to more than $12 million at their highest point in 1929. Unfortunately, nearly $5.6 million of those sales were in mortgages and loans. The Great Depression hit the Modern Homes program hard; $11 million in mortgages was liquidated in 1934 and the last Modern Homes catalog was published in 1940.