Kit Houses
Standard Homes Company
1921 - present
Above all else, when you walk into your new home and realize that you are its owner and that no man has the right to raise your rent or limit your stay . . . a feeling of independence will creep into your consciousness and become a part of your being, which will mean more to you by far than any other earthly possession. – A. Gales Johnson, founder, Standard Homes Plan Service, Inc.

Of the major kit and plan-built house companies of the early twentieth century, Standard Homes Company has proved the most resilient. In 1917, A. Gales Johnson, a salesman for Ready Cut Homes in Detroit, began to produce his own house plans. By 1921, Johnson was working under the name Standard Homes Company in Washington, D.C. In 1937, his sons, A. Glendon Johnson and William Johnson, established a branch in North Carolina.
The branch was incorporated as Standard Homes Plan Service, Inc., in 1967 and is still owned by the Johnson family. Today customers can order house plans at StandardHomes.com.
Standard Homes Company offered plans for popular styles of the time. Catalogs produced in the 1920s were dominated by Craftsman Bungalow, American Foursquare, and Dutch Colonial plans, while those of the 1950s and 1960s offered variations on Ranch and Split-Level designs. The company did not venture into the kit house business.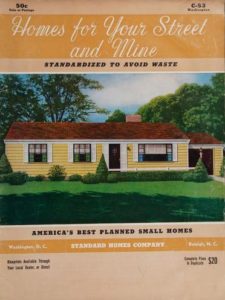 The company established relationships with lumber companies to distribute its catalogs in the early years. Catalogs featured the names of lumber companies more prominently than its own, connecting potential customers directly with a material supplier. In contrast to kit house companies that owned or contracted with sawmills to provide pre-cut lumber, the collaborative relationship between Standard Homes Company and local lumber suppliers likely was instrumental in its longevity.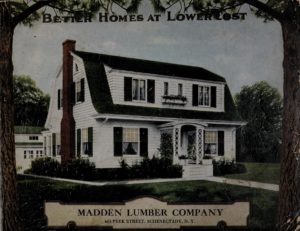 The company's plans used industry-standard dimensions, including windows and doors. By avoiding proprietary proportions, Standard Homes Company offered an economical option that minimized the amount of cutting required while maximizing the choices available to customers for sourcing their material.