Kit Houses
The Addition Neighborhood
The Addition Neighborhood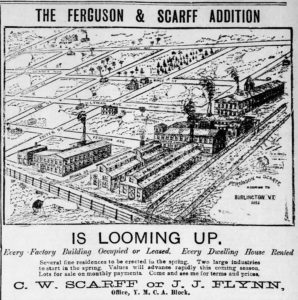 South of the Five Sisters neighborhood lies "The Addition"—quite literally, an addition to the city of Burlington's residential options at the turn of the twentieth century. Formerly a 100-acre farm operated by the Foster family, it was acquired by Charles W. Scarff, a real estate businessman, and A.O. and C.F. Ferguson, who were ice and milk dealers, in the late 1880s. Two of the eighteen city blocks of the land fronted the railroad tracks. The partnership encouraged manufacturing businesses to build along this section, with the perk of employee housing a short walk away. Ferguson & Scarff sold lots to individual homeowners, developers, and prospective landlords.
The Addition Neighborhood 1942
The Addition neighborhood  developed from the northeast corner to the southwest corner, with Shelburne Street and Flynn Avenue the first to be fully built. This explains why the houses in the upper east quadrant date from the 1920s and 1930s, while those in the lower west quadrant date post World War II.
Sanborn Insurance Map 1942